VERSION 1.72 (05.12.2016)

- "Smart Color Correction" filter added. This is a great set of tools for image editing,
which includes: RGB / HSL / HSB curves, Selective Color, gradient map and a lot of other cool features
- A new "Seamless mode" feature added which can be used for creating seamless textures and patterns.
Seamless mode is supported by all the brushes as well as the free transform tool (ctrl + t)
Enable this mode through Menu-> Edit-> Seamless mode
- Using gradient became a little more comfortable
- Two new Clone modes added. To select a new mode, switch on the brush option "Clone",
and then go to the "Clone modes:" on the top panel
- "Close the current document" hotkey added ("ctrl + w" by default)
- Some small bugs fixed
VERSION 1.71 (16.10.2016) - HOT FIX

- Fixed an issues and bugs of version 1.70
- New "Fast layer move" hotkey added
- New "Show\hide reference layer" hotkey added
VERSION 1.70 (12.10.2016)

- An ability to select multiple layers and do the followings with them added:
layers move, free transform, swap layers, delete layers, collapse layers, delete selection, preserve opacity, lock, warp filter.
- A new Warp filter added
- New types of gradients added: radial, symmetry, circle
- Flip horizontal / vertical layers functions added (Menu->Edit)
- An ability to enable / disable the link (chain) between the layer and mask
- Added a function of layer duplication by holding Alt
- Added the ability to move the layer while holding Ctrl
The following bugs fixed:
- An burn effect at low transparency fixed
- A bug of trembling form when "form shift" fixed
- A bit of memory is released at the time of saving / loading psd
- A "lock of transparent pixels when blend transparency is on" bug fixed
- Some minor bugs fixed
VERSION 1.61 (24.08.2016)

- «Select by color range» function added. With this accurate tool you can easily select a specified color or the range of color and brightness.
- Improved quality and accuracy of "Free transform" and "Image resize" tools
- Improved quality of selection edges when using "Straight lasso" tool
- Some little bugs fixed
VERSION 1.60 (18.05.2016)

- The "Clone" tool added. Find the button close to the "Eraser" button in the "Brush" panel.
- The cursor shape changed: now it has the same shape as the brush instead of the circle.
- A new "Resolution (dpi)" option added to the following panels: "New file", "Image resize" and "Canvas size". The dpi value is now saved in PSD files.
- A new "Filters " section added to the menu . This section contains two filters - "Blur" and "Sharpen".
- The active box to control the position of the canvas added to the "Navigator" panel.
- Some minor bugs fixed
VERSION 1.55 (22.04.2016)

- A new feature to record/playback the process of drawing called Script added.
Typically, the scripts are used to create videos of a painting process, however with Paintstorm's script it is possible to increase the canvaz size of your pics without any quality loss.
Learn more about Script here
- "Toggle rulers" hotkey added
- "Lock interface" button added (top right corner of the Paintstorm window)
- Some small bugs fixed
VERSION 1.54 (19.03.2016)

- A new «Blur» parameter of the brush added that affects the strength of the paint mixing
- An ability to select layers in Photoshop style from the drop-down list (by default - Mouse Rightclick)
- An ability to move the layer with keyboard arrows added
- An option "Show / Hide brush circle" in Menu-> Options added
- An ability to display the «Thumbnails with layer bounds» added to the options of the "Layers" panel
VERSION 1.53 (01.03.2016)

- New "Ruler" feature added: Parallel lines, Ellipse, 2-point perspective, 3-point perspective
- "Global pen pressure hardness" feature added to Menu-File-Options
- The ability to "Merge all lower layers to one new" added (ctrl+alt+shift+e or from menu)
- The ability to Apply mask added
- A bug of saving PNG with alpha chanel fixed
- "Rename brush" item added to the Brushes options
- The Free Transform option moved to Menu-Edit from Menu-Image
- New interface language added:French (Thanks to Daniel Siron for translation)
VERSION 1.52 (07.02.2016)

- The new "Real Double brush" feature added. Now you can paint with two brushes simultaneously instead of using the second brush only as a mask. You can also synchronize main parameters of both brushes.
- We added the ability to shift the pivot point for custom forms. It is also possible to reflect the shape vertically or horizontally and rotate at any angle.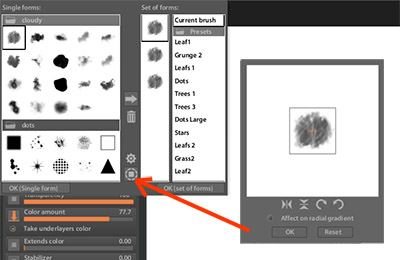 - New buttons added to the top «Tool options» panel: free transform, disable selection, chain for rect selection and free transform, etc.
- Now, when you close the last file, Paintstorm creates a blank canvas without shutting down.
- Instead of "rightclick" an additional button added to the following panels: Gradients, Textures, Brush icons, Brush Group icons, Custom Forms.
- «Move the layer up / down» buttons added to the «Layers» panel
- Presets added to the File->New panel

Bugs fixed:
- Wrong angle of rotation when using squezeX with large brushes
- Random crashed with «Swap Layers + Undo»
- Other small bugs fixed

VERSION 1.50 (14.11.2015)

- Now you can Import / Export your brushes and brushes groups as well as create new categories of brushes. In this regard, we have made a completely new data structure. That is why the brushes import from older versions Paintstorm (1.41 and below) is impossible. We apologize for this inconvenience. The new version of Paintstorm Studio is created to avoid such things in the future, because now you can save your favorite brushes in a separate file, as well as share your brushes collection with your friends.

- The number of points in the graphs is increased from 10 to 50

- The information about the gradient and the set of is now stored in the brush. So if you change any gradient or set of forms, this will not affect other brushes using them.

- New options added: «import» / «export» / «add» / «remove» for: Brushes, Custom forms, Textures, Brush previews, Category icons, Gradients. You will get the access to the new functions through the mouse right click. Right click works on the following panels: Brushes, Custom forms (single and "set of forms"), Textures, Brush previews, Category Icons, Gradients. (Note: When you create your own sets of brushes, you have to remember that the "erasers" - are the 2nd group and «mixer brushes» (which are used in the «mixer» panel) - are always the first three brushes in the third category) Also, now you can reset all brushes to the default settings at any time.

- The ability to import brushes (brush shapes) in ABR Photoshop format (Note! Abr-files should not contain hairy brushes, appeared in Photoshop CS5)

- The "Capture form" feature added for the brush. Just select any part of the picture and click "Capture form" at the top of the screen. (Or use Menu-> Selection-> Capture form)

- The ability to import / export / reset your workspace (as a whole or separate elements) added. Access to this features: Menu-> Other -> (Load custom UI, Save Custom UI, Reset to Defaults)

- In the brushes display «tiles» mode you can now click the brush with ctrl or shift, to change the display of the brush from brush-icon to brush-shape and vice versa. The same applies to the brushes located in the custom panels.

- Scrolling the list (such as layers or brushes) now works like on your smartphone. Just click anywhere on the list and move the mouse or pen up or down. "Scroll bar" also works, and saved for those who are used to it, but it can be completely disabled in the Menu-> File-> Options-> Enable scroll bars
- The CPU usage reduced

- The gradient settings improved: Now you can right click on any point of the and select "Main color" or "Second color". You can also set an option so that the the gradient point will take only H, S, HS, HB, HSB, etc from the "Main color".

- The texture mapping quality improved

- Some fundamental changes regarding the error handling: Now, in case of a critical error, Paintstorm will not just crash, like before, but also try to save all the open files. Some non-critical errors will be ignored when possible. All the information on the errors will be stored in %userprofile%/Documents/Paintstorm Studio/Logs/ You can send us your the error files. This will help us to detect the causes of the errors and make Paintstorm more stable and safe.

- When you use «Free Transform» of large images, there is an image deterioration at the time of transformation on live in favor of the performance

- Chinese interface added.

Some bugs fixed:
- The size of the panels change when Paintstorm window is minimized.
- The tablet shutdown when «jumping» to other applications.
- The incorrect display of the «Brush direction angle» stripe.
- Tiles on Retina5K.
- When drawing in a «mixer», you could touch the edge of the window and change its size.
- Failure to register without internet connection.
- A lot of of minor bugs.

For MAC Version:
The data structure has undergone great changes. Now Paintstorm, as well as other applications, is installed with the .pkg file directly to «Applications». Brushes and interface settings are stored in ~/Library/Application Support/Paintstorm Studio/
Accordingly, to move the Workspace to the new version the previous one, you have to do the following steps:
1) Install the new version
2) Run it from /Applications/PaintstomStudio.app at least once
3) Copy the "Data" folder from Applications/Paintstorm Studio/Paintstorm Files/ to ~/Library/Application Support/Paintstorm Studio/ with replacement
Moreover, do not forget to change the icon of Paintstorm Studio from "Docs bar"
---
VERSION 1.41_1 (04.10.2015) - MAC only
- Hot fix: Fixed an issue of "El Capitan OS X"
VERSION 1.41 (22.09.2015)
- The registration system updated. Now you can transfer your license from one machine to another. Read more
- Some new features added to the «Color» panel: «triangle» mode, RGB and HSB sliders, the brand new feature called «Color Limits» that allows you to limit the choice of color by brightness and saturation.
- The «Picker mode» button added to the «Mixer» panel
- Now you can control the sliders with a keyboard and bind them to 1,2 ..9 buttons. Rightclick any slider to set the binding.
- «Free transform mode» updates: «Rotate 90 degrees», «Flip Vertical / Horizontal», «Apply» and «Cancel» buttons added on top of the panel. Some small bugs fixed.
- The "Grid spacing" slider added to the perspective guides mode. You can activate and adjust the perspective grid size
- The «Tablet Settings» window added to Menu->Files (Win only. Forcetable.txt - now depricated)
- Now you can open files via "Drag and drop" and the OS menu "Open with"
- The «Recent files» window added to Menu-> Files
- When in the «Fast preview» mode (space + shift) you can click anywhere on the canvas, release space + shift and automatically be transferred to this place.
- To open the drop-down list rightclick the «Layers» panel
- The «Thumbnails size» slider added to «Layers» settings panel. Now you can adjust the size of layers icons.
- When the «Blend transp.» mode is on , the «Transparency» works as an eraser. For example, you can set the «Color Amount» to zero and set the «Revert-graph» to «Transparency» on the pen pressure and get a unique blend-eraser.
- Added two shortcuts: «Quick color picker» (works instantly without mouse or pen click), «Current layer visibility toggle»
Fixed the following bugs:
- Eraser burn effect bug
- Inactive buttons on the custom panels bug
- «Panels fill» cursor bug
- Other small bugs

VERSION 1.40 (31.08.2015)
- MAC version is now available!
- New interface design added
- Windows 10 compatibility added
- New interface languages added: Italian, German (You can choose the language from "Menu->File->choose language")
- A lot of small bugs fixed

VERSION 1.32 (31.05.2015)
- New «Polygonal lasso» tool added
- New «Ellipse» selection tool added (hold SPACE to move, hold CTRL to make round circle)
- New «Crop» tool added
- Maximum value of the "Global scale" option is increased to 250%
- Bugs fixed ("Color dodge" at save\load psd, "Esc" on menu pannels, allways minimized window)
- In ...\Documents\Paintstorm Studio\Data\forcetablet.txt added two options "mode" and "toggle earser on pen revert"

VERSION 1.31 (17.05.2015)
- New «symmetry and mirror» feature added
- New «rope and spring» stabilizer mode added
- A line while drawing the straight lines added (press Shift)
- Now you can switch to the eraser by the turning the pen over
- An autosave feature added (Menu-> File-> Options). It is enabled by default and saves every 10 minutes
- New hotkeys added: eraser toggle, preserve layer opacity, toggle mirror, toggle clipping mask
- Now Paintstorm memorizes the position and the size of the window of the previous session
- Canvas background can now be painted by the "Paint interface" feature
- Bugs fixed:
1) Bug with downloading the huge psd file
2) The "global max scale" bug
3) An offset for Yiynova tablets fixed
4) Paintstorm no longer uses CPU when inactive
5) Other bugs and crashes
VERSION 1.30 (21.04.2015)
1) Added new interface languages: Russian, Japanese, Polish, Spanish.
2) Fixed an issue caused by non-latin symbols in the file names the preservation of documents on non-English language. For ex., now you can load and save files with Cyrillic or hieroglyphic symbols.
3) Fixed several system issues leading to hangs and crashes of the program
4) Improved the stability for artists using Intel HD cards:
- Fixed a "white screen on zoom out" issue
- The "bilinear tex." tick is not required any more for most users
5) Fixed different issues with "drag and resize" tool
6) Fixed a "Select and move" issue. You can now move the selected area in a familiar way
7) Fixed a "clipping mask merge down" issue
8) Fixed an issue of black color admixture when resizing bristle brush
9) Fixed an issue with the movement of the program window
10) New hot keys added:
- Straight lines (shift)
- Previous brush

VERSION 1.27 (03.04.2015)
1) "Quick brush resize" tool added (drag and resize) (Default hotkey "Ctrl+Alt")
2) "Show brush cursor" option added ) (You can hide the cursor when painting) (Menu->Options)
3) New buttons added to the Navigator panel:
- "Reset angle" button (default hotkey "Shift+Home")
- "Reset canvas" scale to 100%"(Default hotkey "End")
4) "Pixelate on zoom in" effect added (Corresponding slider at Menu->Options) (If you don't want the pixelate effect on zoom in, set it to "zero")
5) "Binding to 1.00" added (100% canvas scale) to the Navigator scale slider.
6) An issue of crashes caused by fast painting in the Mixer tool fixed
7) The "center point" sign added when rotating the canvas
8) More precise brush cursor added
9) "Mouse right click as a hotkey" tool added
10) An issue of "incorrect blending of flat non-bristle brushes" fixed
11) An issue of "Wacom offset for unusual two monitors layout" fixed

VERSION 1.26 (22.03.2015)
1) An issue of "white screen crash" fixed (when Painstorm crashed with white screen after launch)
2) "Bilinear tex." Option added (For older graphic cards. Most of users should not activate it)
3) "Zoom on cursor" option added (switched on by default, when "zoom on screen center" needed, this option must be switched off
4) Autoupdate fuction added. (To check for updates manually, find the "check for updates" button in Menu->Other)
5) Trial version session is increased up to 25 minutes
6) An issue of "trial crash after 20 minutes" fixed

VERSION 1.25 (19.03.2015)
1) Fixed an issue with two monitors. Now Paintstorm fully supports 2 monitors mode.
2) Fixed a «minimize window» issue. Now you can minimize the window by clicking the taskbar.
3) Fixed a «taskbar autohide» issue.
4) Added the hotkey «swap main and second colors» («Х» set as default).
5) Fixed a «black color» issue in the textured bristle brushes.